Three Jays Corporation
Compare results of the current with newly calculated EOQ and ROP
Comparison of EOQ
As shown in the Graph, the EOQ in increasing constantly from year 2011 to 2013. With the increase in demand of organic food, the profit of the company also increases with a decrease in the costing of production.
Comparison of ROP
In the Graphically Representation of changing in ROP of Three Jays Company the peach jam shows a decrease in demand in 2013 whereas in 2012 the demand for all the Jams and Jellies increase and in 2013 the SKU also increases by over 50%.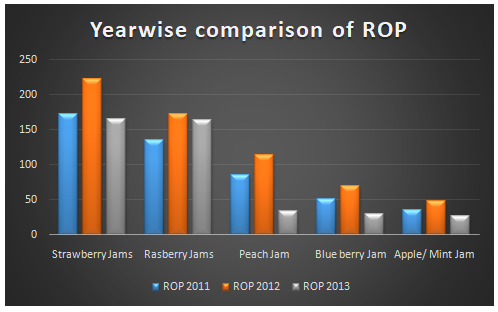 Recommendations
The Three Jays Company should control on the inventory by applying different approaches like lifo method and weighted average cost method.
The company must move towards the marketing for increasing the sales and earn more profit.
The company should expand the market outside the united states because it's a great opportunity to earn revenue in different markets by finding the Gap of Organic products.
The president of the company must constantly review the inventory of company and direct the production accordingly.
Conclusion
After analyzing the data, we can conclude that the company is in profit with lower cost as EOQ of the company increase it shows favorable for company. The demand of the organic products increase which increase the production and generates more revenue by lowering expenses. The increase in production also increases the effectiveness of the company…..
This is just a sample partial case solution. Please place the order on the website to order your own originally done case solution.