The Business Environment of China: Challenges of an
Emerging Economic Superpower case solution
Due to this focus, the country is lacking severely in holding management positions as the availability of skilled managers is not present. Furthermore, the country is also facing issues in handling migrant works due to no worker rights as the issues related to workplace protection are growing.
Apart from that, the natural resources are also under serious threat due to immen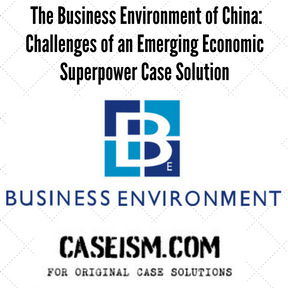 se focus on China towards industrialization. On the other hand, the financial market is surrounded with issues like fraud, corruption and poor financial control. Furthermore, the lack of technology and innovation is restricting the country to manage the cost and is threatened to lose its competitive edge due to rapid innovation in technology and the dependency it has on technology. The competition is growing, which is why the country needs to develop a strong and sustainable competitive advantage which is one of the major challenges.
Questions
1) The dependency that China has created on industrialization is posing major threats and the country is seemingly losing its edge in this field. However, the abundance of population and immense focus towards production will allow the country to move ahead in the right direction and overcome all these issue?
2) Reforms are needed to revolutionize the system and does China require new reforms in order to develop a sustainable competitive advantage and safeguard its global position as an industrial hub?………….
This is just a sample partial work. Please place the order on the website to get your own originally done case solution