Teuer Furniture (A): Discounted Cash Flow Valuation
Appendix 2: Pro forma Balance Sheet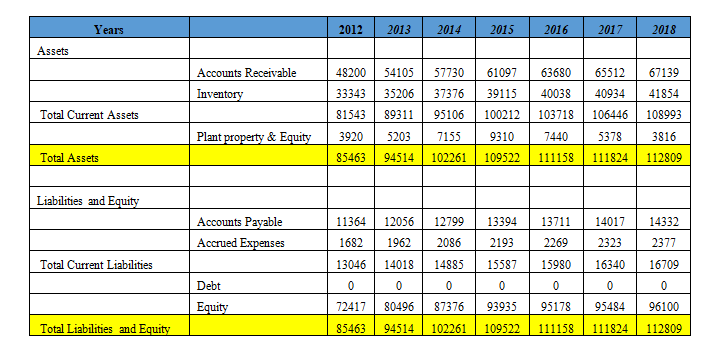 In the balance sheet of Teure Furniture, all the assets are equal to all the liabilities and equity of the company in all forecasted years. I take the Equity increase from $85463 to $112809 million and the liability for the long term as 0 in future forecasting.
Appendix 3: Pro Forma Cash flow Assets and FCF
As shown in Appendix 3, the sales increase from 2012 to 2018. The value of share is $34 by using growth rate of 5% and the discounted rate used in this forecasting is 12.1%. The terminal value is 318,031 and the Net income is also increased in every coming year.
Appendix 4: Sensitivity Analysis

In future forecastinggrowth rate is taken from 1% to 2% the Share value ranges from 26.798 to 34.050 but as the growth rate increase from 2.50% to 4.50% the value of share exceeds to 40.102. It means there are more chances of an increase in share value in the future.
Working Capital
Working capital is difference of current assets and current liabilities the values of working capital are calculated from the Appendix 1 the working capital increase in forecasting which is good for Teuer Furniture.
Recommendation
The Teure Furniture Company must repurchase the shares from investors. As shown in Sensitivity Analysis the share value increase in future and generate more profit for company so this the good decision to repurchase the shares from investors. Teure Furniture needs to expand the market internationally which also increase the brand image and can gain the competitive advantage internationally in furnishing industry.
Conclusion
The financial Analyst of Jerabek calculate all the financial statements and sensitivity analysis. The net balance in all the statements is in the favor of company. In coming years the revenue, net income increases. The company is in good financial health. The brand image and brand equity of the company is also good in market. The sensitivity analysis encourage the company to repurchase is shares…..
This is just a sample partial case solution. Please place the order on the website to order your own originally done case solution.