MERCURY ATHLETIC FOOTWEAR: VALUING THE OPPORTUNITY
QUESTION 8
By using the provided market multiples of BV, PE, EBITDA and EBIT, the enterprise value of the company is determined to be in a range of $358,777 to $535,167.
QUESTION 9
By using the DCF approach based on the assumptions provided, the enterprise value determined to be conservative because of the lower terminal and revenues growth rates. The reason behind these lower estimations is that the operating cash flows out of the women's line were not considered and incorporated. But the determined estimated values by using the multiple approach and DSI ratio after the synergies, is determined to be aggressive approaches that resulted higher enterprise values.
QUESTION 10
the synergies that need to be considered in the calculations are as follows:
The savings generated out of the distribution network of both of the companies.
Higher growth rates and increased market share.
The significant increase in the enterprise value with the incorporation of Mercury's women's line
The potential to generate great leverage in corporation with the Chinese manufacturer.
the significant reduction on the consolidated overhead expenses.
improved relations with the suppliers and retailers of AGI.
in case of reduced DSI the working capital investment would be materialized
from these overall potential synergies, the effects of reduced DSI of the Mercury and with the incorporation of the women's line the calculations are done in the excel attachment.
APPENDIX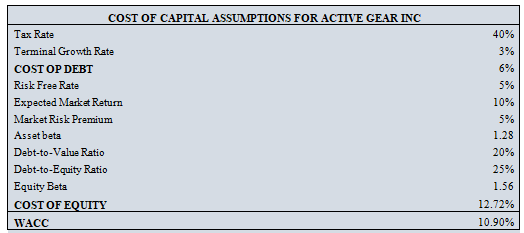 This is just a sample partial case solution. Please place the order on the website to order your own originally done case solution.